HEB is the best grocery store. Ask any Texan and they'll tell you the same. Always clean, relaxing, and well organized with the best products. Shopping at HEB in the mornings is especially therapeutic. There's just something about being one of the 8 people lazily strolling through aisles sniffing candles and deciding which cheese to buy. Call me crazy, but HEB shopping is some of my favorite 'me' time.
I especially love HEB brand products. Not only are their products well priced, but the quality is simply unbeatable. I always know what I'm going to get. (This isn't any type of ad or plug for HEB, just want to mention where and what products I get when I grocery shop.)
I stick very closely to the same shopping list each time I grocery shop. It might vary from time to time, but the groceries I buy are versatile items that are well liked by both myself and Kyle. I try to stick to the edges of the store where fresh produce and products are located. Besides processed foods I buy for Kyle's work lunches (like granola bars or occasionally, chips) we stick to whole, fresh foods.
Here's a general idea of what I get at the grocery store!
(Note: we don't buy ALL this food each time we grocery shop, but these below are what we choose from each time)
Meats & Protein
Chicken breast

Turkey bacon

Breakfast turkey sausage

Salmon fillets

Tilapia fillets

Shrimp

Hard Tofu

Turkey lunch meat

Eggs (we usually buy the 36 pack… we LOVE our eggs)

Veggie burgers

Ground turkey meat

Tuna

Feta & Spinach Chicken Sausage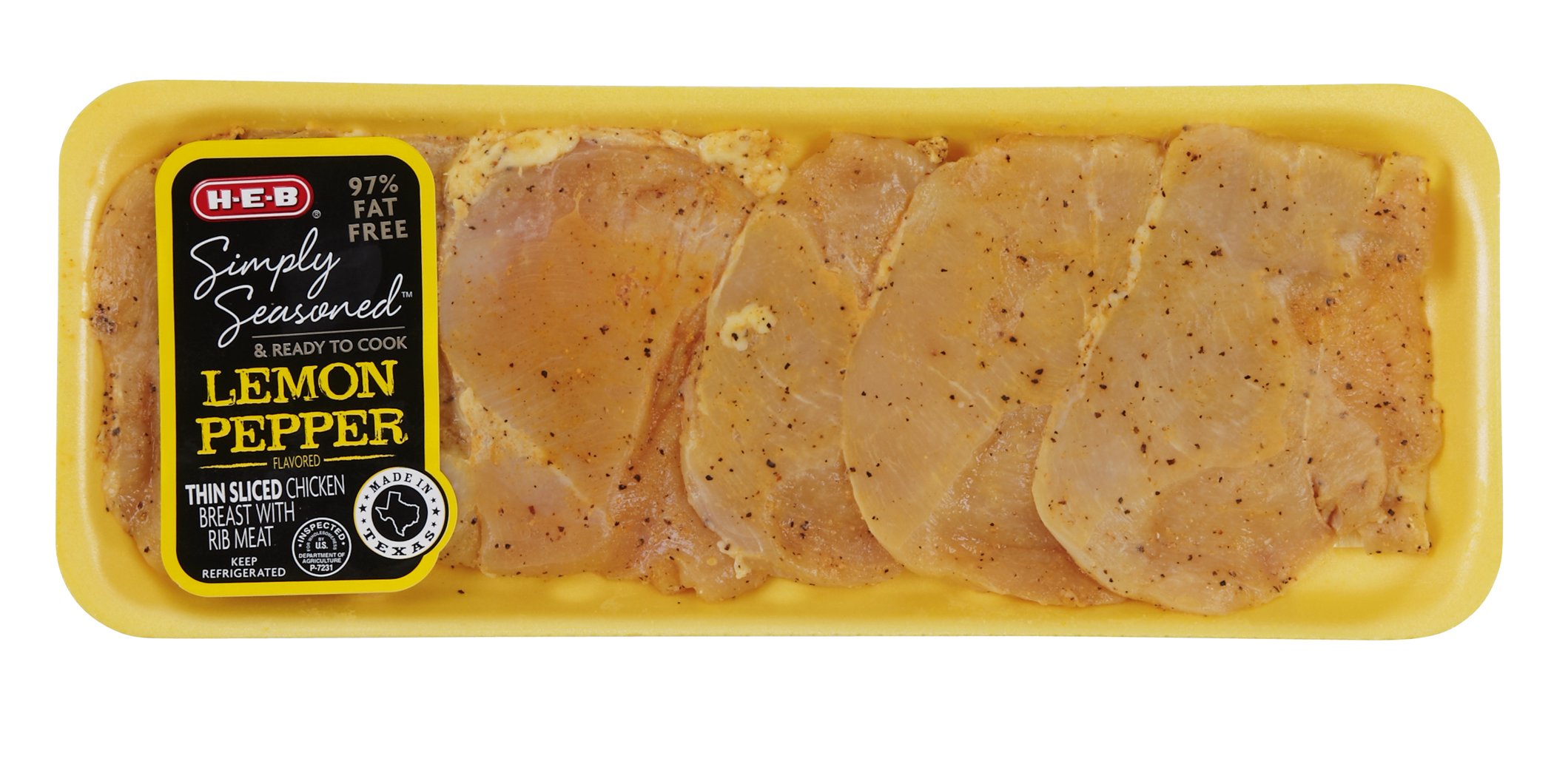 You might notice that we don't have any type of beef or pork on our shopping list. Kyle cut out red meat many, many years ago – mainly for health reasons, but he also feels better when he eats leaner cuts of meat. Even though I enjoy red meat, I don't eat it unless we're at a restaurant every once in awhile.
Dairy
Almond milk (we do buy skim milk every once in awhile, but I prefer the taste of almond milk!)

Plain greek yogurt

Gogurt (we freeze these, our FAVORITE treat!)

Mexican shredded cheese

Fresh mozzerella

Feta cheese

Parmesean cheese

Provolone slices

Fruit
Strawberries

Bananas

Clementines

Raspberries

Blueberries

Blackberries

Pineapple

Cantaloupe

Watermelon

Grapefruit

Pears

Lemons

Limes

Pomegranates

Avocados
Vegetables
Asparagus

Broccoli

Fresh green beans

Bell peppers

Cilantro

Brussel sprouts

Carrots

Celery

Snap peas

Edamame

Kale

Mushrooms

Onions

Romaine lettuce

Spinach

Zucchini

Sweet potatoes

Fresh basil

Fresh rosemary
Canned/Jar Foods & Pantry Staples
Black beans

Chickpeas

Artichoke hearts

Coconut milk

Pasta sauce

Minced garlic

Pesto

Canned pumpkin

Pretzel thins

Dark chocolate chips

Banana chips

Larabars (the lemon ones are to die for!!)

Popcorn kernels

EVOO

Canola oil

Coconut oil

Chia seeds

Flax seeds

Spirulina powder

Almond butter

Almonds

Whole wheat crackers

Balsamic vinegar

Apple cider vinegar

Vegetable stock

Raw honey
Grains
Whole grain pasta

Oats

Quinoa

Whole wheat bread

Blueberry bagels

English muffins

Brown rice

Granola

Pita bread

Tortillas

Veggie pasta
Drinks
Topo Chico

Sparkling water

Almond milk

Coconut water

Coffee (the darker the better)

Multitude of tea (favorites are green chai and orange spice)

Lemonade

Wine
Miscellaneous
Multitude of spices

Hummus

White, wheat, and coconut flour

Baking soda

Ice cream

Baking powder

Sugar (white, brown, and powdered)

Yeast

Lemon juice

Dijon mustard

Capers

Daily vitamins

Hair, skin, and nail vitamins
Notes
We don't follow any certain type of 'diet'. Kyle and I are both invested in eating healthy diets, and we grocery shop to mirror that goal in our lives. We try to eat protein + vegetables for our meals, limiting sugar and bread. But we also love eating right out of a tub of ice cream together and chowing down on extra buttery popcorn 🙂

Mostly everything listed is H-E-B brand. Some exceptions are chocolate chips (Hershey's), coffee (life is too short to drink bad coffee), and bagels 🙂

I usually spend around $60 a week at the grocery store (just for a frame of reference.)